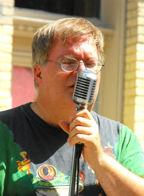 Neil at the Winnipeg Kids' Fringe Festival - 2011
Photo by Keith Sutton
Did you know...
Along with playing live with other musicians, I do this great little show with my iPod Orchestra - it's perfect for house parties and other small events where your stereo isn't enough and a full band would be too much. I've done more of these events than I can remember, quite frankly! It's pretty unique - I don't know of anyone else doing this in Winnipeg. It won't break the bank (like I said - Winnipeg) and your party guests will be impressed. Sound interesting?
Email me!
Awesome
iPod Orchestra
Client quotes...
"Neil, I can't thank you enough for the job you did at my sister's 60th surprise birthday party on Friday at the Fort Garry Hotel. You are beyond awesome! Your voice equals that of Michael Buble, Frank Sinatra, the Beatles and so much more. Congratulations! Everyone thought you were wonderful."
- K.M., Winnipeg
"Highly recommend Neil and his iPod orchestra. We have attended numerous events and it's always been fun and enjoyable."
- M.P., Winnipeg
home | bio | where I'll be next | contact neil
facebook.com/neilkeepvocalist | youtube.com/neilkeep | reverbnation.com/neilkeep
(FYI: My facebook and reverbnation fan pages are great ways to hear about upcoming gigs!)

About Neil Keep, Vocalist
Neil Keep could sing before he could talk. No one has ever had to twist Neil's arm to get him to make music or noise of any kind. Early educators took advantage of his "golden" voice and "bent" for "performing" - he was always in school productions from an early age. At age 18, the seed of a dream of a music recording career was planted.
In his 20s, he was in mostly Rock 'n' Roll bands at church, "learning the ropes" - singing some lead, some harmony, playing guitar, bass, sax & even clarinet at times. Neil would be the first to admit that he is not an instrumentalist and plays only in the shower now. In the summer of 1985 he toured the U.S.A. for two months with a 48-piece itinerant Gospel group as a singer and puppeteer. Along with a lot of singing he recalls eating a lot of ham sandwiches, not liking Pimiento Velveeta and loving sweet 'n sour racoon.
Neil worked for a few years doing home renovations with his father. In 1987 he decided to go back to school to become a graphic production artist. In 1991, friend introduced him to the music of Harry Connick Jr. and a passionate love affair with the crooner sound flared.
Using prerecorded backing tracks, Neil began doing more and more Crooner Jazz and a demand developed for his appearances at private parties and events. Over the next 10 years, he developed a fair repertoire of Jazz Standards and other songs, much to the delight of his listeners. Quite often a casual listener would come up and say, "Seriously... I thought someone had just put on a CD until I saw you over here singing! Do you have a CD? I'll buy one!" The answer was always a foot-shuffling "No", and at one particularly low point in his life in the late 90s, Neil bitterly abandoned his dream to record. It was simply out of reach.
In 1996, Neil wrote and recorded a few songs and played some character roles for a children's audio series called Best Loved Bible Stories. That same year, he recorded the vocals for the character of Dr. Berg on the official CD of Olaf Pyttlik's The Wave: A Musical and helped workshop the original script with Pyttlik and Richard Hurst at Manitoba Theatre Centre in 1998.
He continued to sing at occasions of all kinds and had the privilege of performing a few times with the Ron Paley Big Band over 2004-2005. In the fall of 2005 Neil approached Peter Sarmatiuk and the Memory Lane Orchestra (MLO) who were doing the exact kind of music, live, as Neil had been doing with his prerecorded Jazz Standards. It was a match made in heaven! They didn't gig much, but it didn't matter. It was the music, camaraderie and the beer that kept him coming back.
In the fall of 2010, Neil asked his vocal mentor, singer/songwriter/producer Helen White to see if recording a CD was a remote possibility. With the backing of so many good people, a "debut" CD: "Mr. E & The Jazz Gumshoes" became a reality. It was recorded on December 28 & 29, 2010 and released very quietly at the second annual ALS Society of Manitoba's Cornflower Gala on March 12, 2011.
Currently, Neil is supporting his family doing freelance graphic design, repairing drywall and music performances. He performs occasionally with Ricky Bogart & the New Casbah Band, the direct descendant of the now defunct MLO and with the Merv Mauthe Quintet. He has also been appearing at various lounges in Winnipeg in a duo format with Mauthe. He is still active with private events, flying solo with his "iPod Orchestra". He has been introducing Crooner Jazz to the kids at the Winnipeg Kids' Fringe Festival for 4 years as a transitional act between the kids' shows during the day and the adult shows at night.
---

About "Mr. E & The Jazz Gumshoes"
After 30 years of working, wishing, whining and waiting, Neil Keep, a lifelong Winnipeg resident, has released a long-awaited debut Jazz CD entitled: Neil Keep "Mr. E & The Jazz Gumshoes".
Keep is indeed a "mystery". His "unknown" status has baffled long-time fans who have for years, been calling him a "hidden musical treasure".
Mr. E & The Jazz Gumshoes" is an eclectic mix of Jazz Standards, a vulnerable rendition of George Harrison's "Something" and two, original Jazz compositions.
"Mr. E" was produced by Helen White and recorded in Winnipeg by Helen White & Jordan Jackiew at Resosound. Veterans of the Winnipeg music scene - Jonathan Alexiuk (piano & horns), Owen Clark (drums), Steve Kiz (double bass), and Andrea Sarmatiuk (harmony vocals) make up the band on the CD.
Eleven of the CDs twelve songs feature Keep on vocals but one introduces another "hidden musical treasure" –Andrea Sarmatiuk– a sultry alto, doing a torchy rendition of Black Coffee. Long-time fans are near giddy with this release and hoping Keep won't remain "unknown" for long!
A sampler of a few of the 12 tracks on the CD:
If you would like to order a CD, COOL! Please visit my home page...

xo Neil

---
home | bio | where I'll be next | contact neil
facebook.com/neilkeepvocalist | youtube.com/neilkeep | reverbnation.com/neilkeep
(FYI: My facebook and reverbnation fan pages are great ways to hear about upcoming gigs!)



©2011 Neil Keep. All Rights Reserved. Page last updated: October 30, 2011